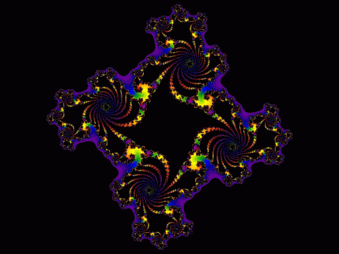 TetraTerror
Julia-4 Circle animation around the main Cardioid.
Remember the original "Outer Limits"?

Would be excellent projected on a big screne
in a dark room (club, rave, party).

AVI 1024x768 7 minutes 395 MEG ♦♦♦

10/31/2018 :

This is an updated version, higher resolution and frame rate, better color.
1.7Gig download.

This is a Zoom-In to the center - awesome with a wall projector!
2.8Gig download. Sorry for the file size, but 25,000 hi-rez frames take up space!